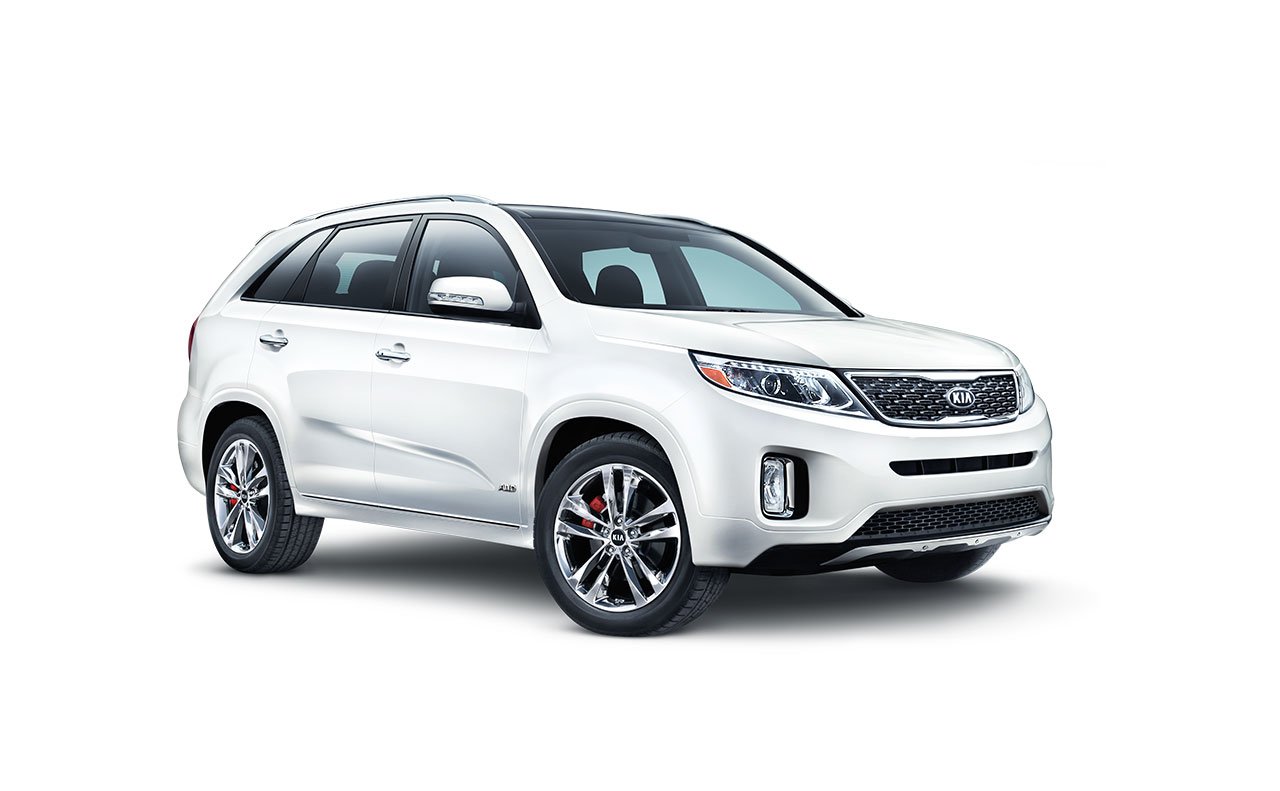 Amid a serene setting with an endless tree line, Route 64 slices through the North Carolina countryside. A highway currently void of traffic, it provides access to downtown Raleigh within minutes for residents from Wendell and beyond. With plans for adding more housing developments and a new Sheetz, the area has seen growth. There already exists a staple of the area, and it sits directly behind the newly built gas station: Leith of Wendell. It is a series of dealerships collected in one spot, which includes our latest stop for new test drives: Leith AutoPark Kia.
When we walked across the threshold of the dealership, it was electric with enthusiasm for the brand. Leith AutoPark Kia houses a modest showroom that currently displays two best-selling models for the brand. One is the 2014 Kia Soul, and the other is the subject of this review, the 2015 Kia Sorento. The all-glass paneling from end to end provides both a great view of the expansive inventory and of the gorgeous natural setting just a few hundred yards away.
It was here that we met one of the most enthusiastic brand ambassadors of any visit to any dealership. C. Scott Pittman managed to keep our absolute attention with vigorous delivery and engagement. We spent an extended period covering all of the facets that make Kia safe, reliable, and perfect for any consumer. He took the time to ensure that we understood the vehicle before even getting behind the wheel. We felt comfortable with it already.
On Display
During the review of the vehicle, Mr. Pittman highlighted some designs of which we were formerly unaware.
Under the Sorento's hood, Kia took considerable care to develop precise crumple zones. These are the areas intended to help insulate the occupants from the force of the impact. Insulation lining the hood serves a dual purpose: contain fires that might result from a crash and lessen engine noise within the cabin of the vehicle. What struck us as the most interesting construction are break-away rods that, upon snapping in a serious collision, allow room for the engine to drop instead of being forced toward the cabin. This prevents even greater potential for injury.
As Mr. Pittman reiterated, Kia dedicates itself to finding new solutions and designs that maximize the safety of occupants in its vehicles. A blind-spot alert, backup camera with parking assist, molded door jams to optimize side safety, ABS, ventilated brake discs, traction control, and so much more contribute to the 2015 Kia Sorento's overall 5-star safety rating. While many of these features might be found in other brands, the difference is how precise Kia manufactures everything. There's a clear deliberation in how the vehicle was engineered and fabricated.
It is apparent that Kia seeks to provide luxury to all trims of its models. Three-level heated seats, heated steering wheel, panoramic sunroof, Napa leather, automatic seat adjustments, steering wheel-mounted audio controls, infotainment screen, digital meters, and a multitude of other options are available. The many compartments, some seemingly hidden, make for an Easter Egg hunter's delight. Where can they all be found? You'll have to test drive one to find out…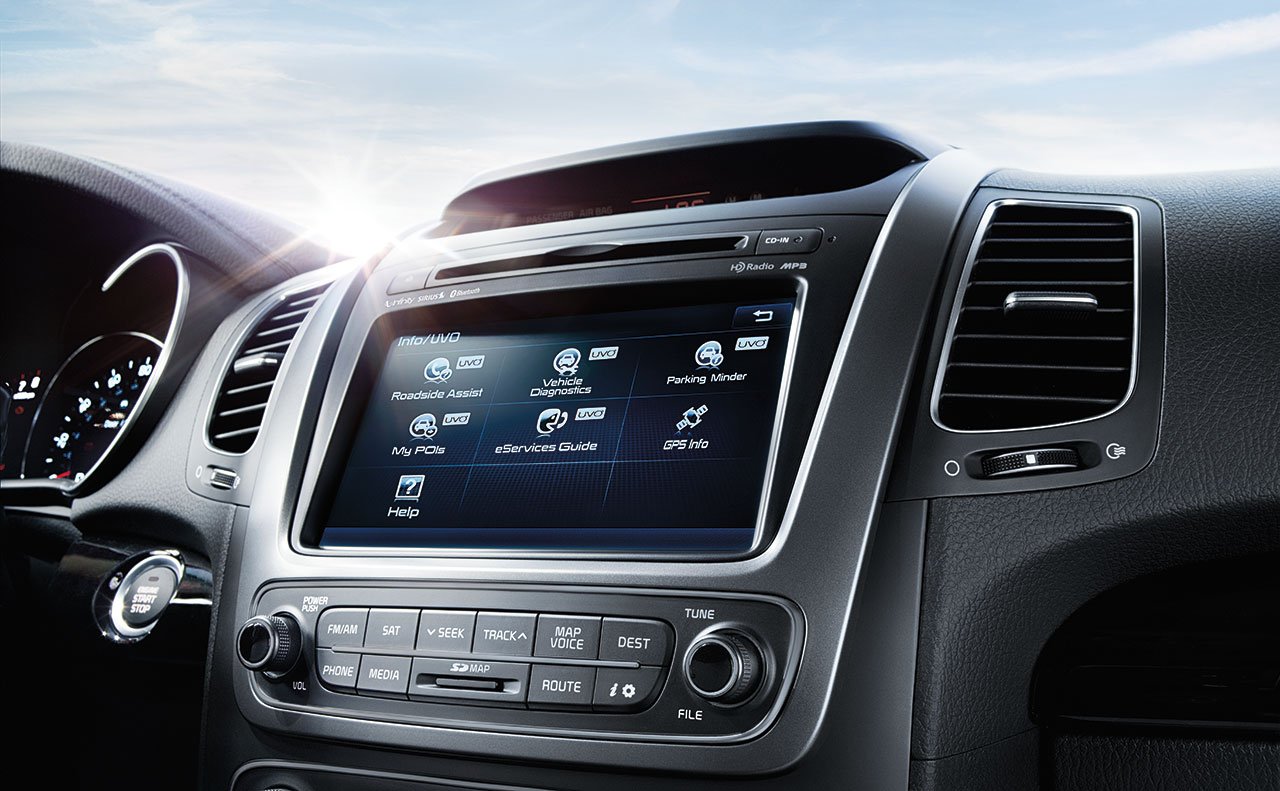 Allow us a moment to brag about the UVO eServices infotainment system developed by Kia. This system allows for voice command of various vehicle operations, ensuring that you don't have to take your eyes off of the road to complete simple tasks like changing the radio station or calling a friend or family member.
To the Streets
When it was time to get into the 2015 Kia Sorento for the first half of the test drive, we were interested to see how this mid-size SUV felt; with its 4 cylinder 2.4-liter direct injection engine that cranks out 191 horsepower and 181 lbs-ft. of torque – quite strong for its class.
Mr. Pittman drove first, taking time to demonstrate some power and handling; however, he did not want to explain or illustrate too much because his focus was on helping us build our own experience. When it was time to hand the controls over to us, we started out in a private area that afforded us to let loose a little and familiarize ourselves with the feel of the vehicle.
With the car in gear and wheel firmly grasped, our experience-building began with quick turns, hard acceleration, and a mixture of braking situations without the risk of being on the actual road. The 2015 Kia Sorento LX boasts an amazing turning radius, easy handling, and smooth stopping power. While it has the bulk and appearance of an SUV, it doesn't have the unwieldy handling like some of its competitors.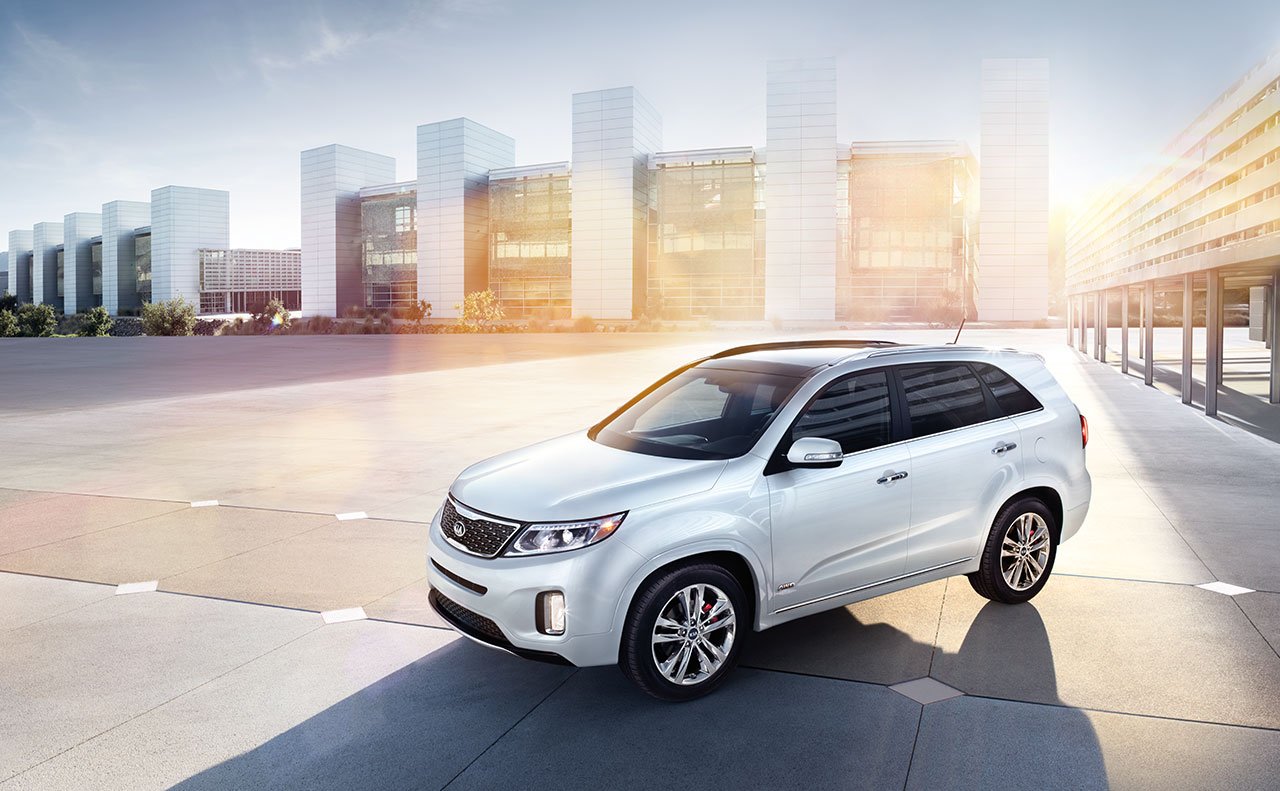 On the actual road, we enjoyed a smooth ride that was quite serene. Kia's acoustic windshield glass with a layer of sound-absorbing material helps make for an incredibly quiet cabin. Even on such a day as on this test drive, with extremely high wind resistance, the cabin remained quite tranquil – no whistling whips of the air rushing by. Of all our test drives to date, the Kia may honestly be the most comfortable drive. The ergonomics are perfectly tuned to enjoying a drive. Everything is within reach or can be adjusted to be easily within reach – not a typical feat for an SUV – and armrests are set at optimal positions, including soft accents that supplement the comfort.
Back at the dealership, we easily swing into a parking space. We take a moment to appreciate the blend of soft and solid accents, the silence of the cabin, and the extreme comfort of having driven something so safe, yet also so fun. In many cases, safety on other designs take away from the enjoyment of driving. In Kia's case, everything works toward optimizing joy behind the wheel.
When we stepped from the vehicle, our team wanted to take a final look at the 2015 Kia Sorento LX and enjoy its aesthetics just as we had taken a final moment of appreciation for its interior. The aggressive looking honeycombed grille resting atop masculine and brawny front fascia gives this mid-size SUV the look of a much stronger and larger machine. The rest of its well-designed curvature and lines across its frame does not detract from its masculine appearance, but it does lend a sleek, aesthetically healthy look.
Not the End of the Road
As a final thought, many people seem to overlook the significance of a warranty. Not the cost savings or the benefit itself, but what exactly that it means. For example, Kia offers a 10-year / 100,000-mile limited warranty. No company is in the business of losing money, let's face it. This means that Kia is so supremely confident in its product that it promises to cover some of your most significant repairs for up to ten years or 100,000 miles. To us, this is a statement of confidence that you will not have to make any such repairs.
The congenial staff, the amazing brand of cars, the enjoyable drive, and the unparalleled warranty give you (and us) every reason to go to Leith AutoPark Kia for our next purchase of an automobile.
Behind the Wheel: The 2015 Kia Sorento
was last modified:
April 20th, 2021
by