When many people think of Leith, they think in terms of Raleigh and Cary, which is wholly correct, if not a bit incomplete. What should be included is a cluster of Leith dealerships situated right outside Raleigh, just beyond 540 on the Eastern side. People think of Raleigh's Eastern side as being roughly synonymous with the entire Eastern half of North Carolina, but the reality is that many of the towns are as close as Cary, if not closer. We suppose we have whoever decided that Raleigh should be part of a triangle instead of a circle to blame. But anyway.
Leith Autopark Kia is one of these closely located dealerships just before Wendell. It's helpful to think of Wendell, Zebulon, Clayton and Garner as what they are: suburbs of Raleigh. Just as Cary was once a smaller town vying to be noticed between Raleigh and Durham, many of Raleigh's eastern suburbs are on their ascendancy.
In any case, we arrive at the dealership just behind the Sheetz off of highway 64. It's a sunny Friday morning with the Carolina blue sky unmarked by clouds, perhaps in tribute to UNC's win a few days prior. Also next to the Sheetz and Kia dealerships are Leith Ford, Leith Chrysler Dodge Jeep RAM and Leith Buick GMC.
For a visual reference, picture a section of North Carolina undisturbed by the strip malls and big-box stores that don't carry much state history with them. This is a place where families stick around for generations and have plenty of space to enjoy. The buildings remind us of those depicted in Ayn Rand's novel, The Fountainhead, where an architect designs good honest buildings that look like they belong in their surroundings.
Positive Outlook
Belonging is a good word to describe stepping through the doors of Leith Autopark Kia. The floor-to-ceiling glass walls and doors give wide-ranging views of the trees and hilly landscape still a bit pared down by winter. It's getting slightly warmer thanks to the sun, which is a welcome segue as we meet our sales representative who will be acquainting us with the 2014 Kia Optima EX. Chad Susan had lots of enthusiasm as he greeted us, even though he knew that we were looking to write instead of buy, which won us over from the beginning. As a native of Pittsburgh, Chad wasn't bothered at all by the late February chill, so we launched right into our exploration of the Optima as soon as he pulled one out front.
Our particular Optima was Remington Red with beige leather upholstery and was an EX model, which is the second-highest of the four trim levels (LX, EX, SX and SX-L).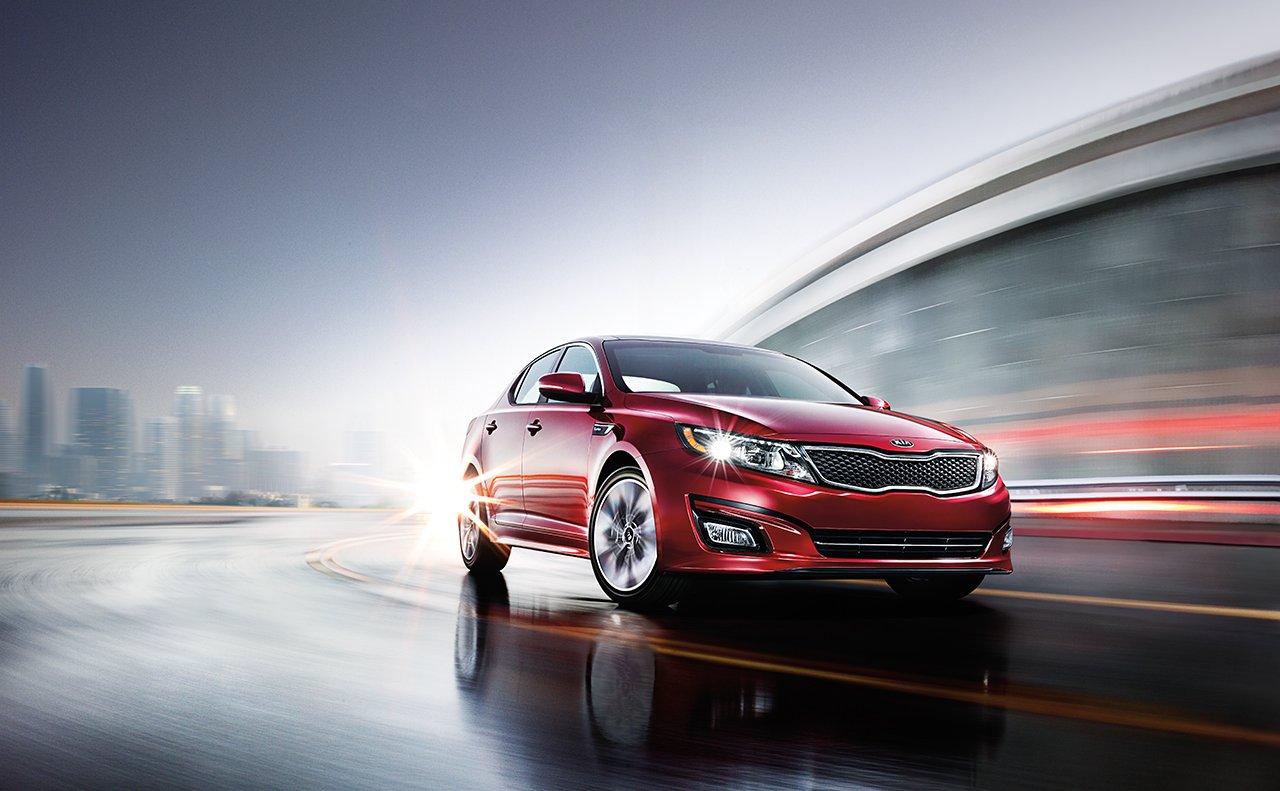 The number one thing we should say at the outset is this: we have done test drives within the past few weeks of Porsche, Mercedes-Benz, Honda and Toyota, and we can unreservedly say that the Optima wasn't lacking in a single feature you would expect in a modern car. It had all of the newest features and there were still two trim levels above it!
It has the keyless entry and keyless push-button start that lets you lock, unlock, start, stop or leave, all without once ever touching your keys. As long as they're on your person, the car will sense it and treat you as its owner. Because of that sensing technology it's also impossible to lock the keys in the car; the vehicle will detect their presence and protect you from yourself.
It has the blindside and rear sensors which light up if another car or foreign body is in your blind spot or directly behind you, then beep audibly if you fail to see the indicator and begin moving toward that obstructed space.
It has the rearview camera that displays what's directly behind you, the brilliantly white fog lights that illuminate what's in front of you, and the five-spoke alloy wheels that catch people's eyes as they blur past you. Kia benefitted from a top-to-bottom brand refresh a few years ago by Audi design chief Peter Shreyer. You can see how the cars changed from aerodynamic, though staid, designs in the early 2000s to the direct and purposeful lines that led into the second decade of the millennium. Now in his eighth year with Kia, Shreyer's influence can clearly be seen in the Optima.
Updated Ideals
This Kia's widened front grille, angled light banks, puffed front hood, straight-lined sides and sloping rear all speak to the industrial design philosophy of Shreyer. For many people, the former Audi designer is the reason why comments such as, "Wow, that Kia looks really nice," are becoming increasingly frequent.
As Chad drives us out to a parking lot where we'll switch seats and get behind the wheel ourselves, we notice all the amenities that make the Kia a modern car: the panoramic sunroof lets light in for both front and rear passengers; the front and rear seats are heated, and the front seats can also be cooled; the touchscreen is intuitive and requires a minimum of touches to do what you want. We specifically appreciated how inputting navigation commands only took up a small portion of the screen leaving the bulk devoted to the map itself. This lets you see where you're going while you input or change destinations, and not all cars let you do this.
Also cool is the phone pairing feature. You can connect your phone wirelessly to stream your music and contacts, that's a given. What we were surprised to see was a safety notification feature in the event of collisions that deploy the airbags. Your Optima will automatically alert emergency response teams to your location with your name, phone number and any tied phones to your account who might need to be notified. You can customize how much information is shared, of course, but the extra time saved by alerting medical crews immediately is a fantastic safety feature, particularly if you're disoriented, unconscious, or don't have your phone with you.
Optima Prime
Once behind the wheel ourselves, we can attest to the pleasantness of the driving experience. The engine is a four-cylinder, which makes it fuel conscientious, but also uses direct-injection and turbocharge technologies when you demand more power. The result is a very impressive 274 peak horsepower which insures that you'll never be unable to pass the slowpokes on the highway. Braking is firm and quiet, and the handling is in line with Shreyer's form-meets-function design. Very nice.
All told, the 2014 Optima EX we drove was a wonderful sedan. It comes with Kia's 10-year/100,000 mile warranty for the powertrain, and 5-year/60,000 mile limited basic warranty and roadside assistance plan. This is Kia's way of saying that we want to be there for miles to come. At Leith Autopark Kia in Wendell, we take that relationship seriously, and want to remain a part of your lives for as long as you have your Kia.
We want to thank Chad Susan for taking the time to show us the Optima, and everyone at the dealership who made the test drive possible.
Behind the Wheel: The 2014 Kia Optima
was last modified:
April 20th, 2021
by