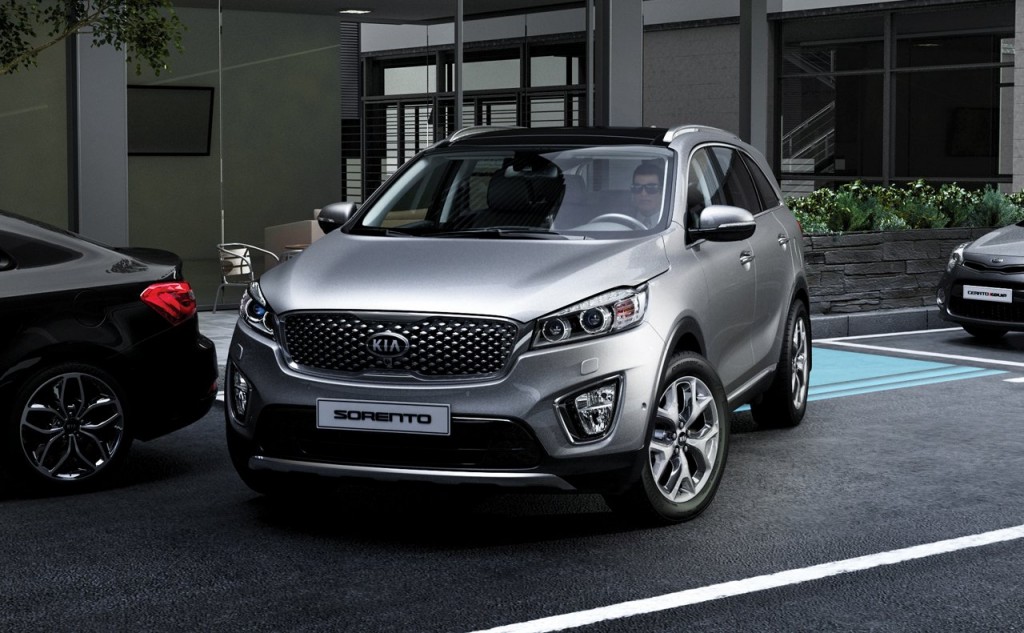 The 2016 Kia Sorento has been on our mind and in our blog posts a lot lately, and it's already accrued a lot of high expectations as a result of the hype surrounding it. This is a vehicle that Kia has redesigned with a premium audience in mind, but it's still supposed to maintain the practical versatility of previous generations. It also happens to be one of the first, if not the first, 2016 models to market, so in a way it sets the bar for all 2016 vehicles to come across all brands.
With all that in mind, we set out to Leith Autopark Kia to test-drive one.
When we go there, our demo-car had already been pulled and was sitting out in front of the dealership. We walked in to get the key and were promptly greeted by the sales manager.
"We got you the most suped up version, so have fun with it," he said, passing us the key.
"Thanks, you got it," we said, while wondering what it means for a Sorento to be "suped up."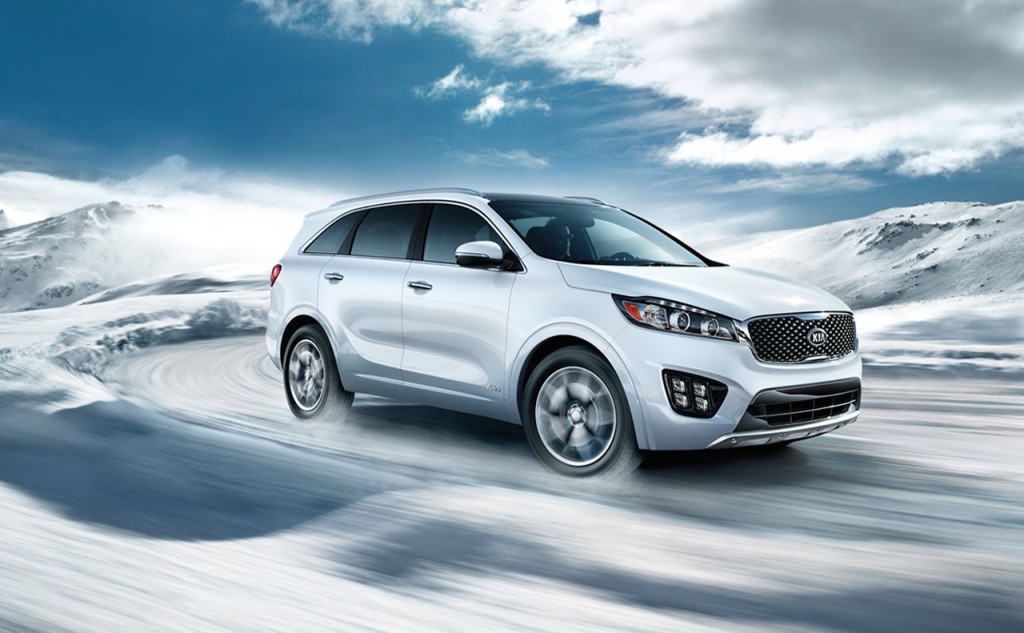 Turns out it means a couple of things. First, it means power. The exciting new engine option for the third-generation Sorento is a turbocharged 2.0-liter I-4, which makes 240 horsepower and 260 pound-feet of torque. A turbocharged four-cylinder is quickly becoming the industry standard for both power and efficiency, so it's great that the new Sorento has an option that keeps it competitive.
Sometimes you just need a little more, though. That's why there's also an option for a 3.3-liter naturally aspirated V6 engine, which is not just good but great for 290 horsepower. This is the engine option in our test-car, as proclaimed by the shiny V6 badge on the back. Now our Sorento was equipped with front-wheel drive, but if you choose to opt for both the V6 engine and the Dynamax All-Wheel Drive setup, you'll be working with an impressive tow-rating of 5000 pounds.
Note that there is also a 2.4-liter naturally aspirated I-4 available that will net you a serviceable 185 horsepower and 178 pound-feet of torque.
The second thing "suped up" means is options. How many options? Pretty much all the options. We could just start listing them off and then meet you at the bottom of the page for a conclusion, but then we'd be skipping the fun of narrative. We'll be sure to mention as many as we can, but you should assume that most of the boxes on this car are checked, and that makes for an excellent test-drive.
Before getting in, we took a moment to walk around the Sorento and appreciate the upgraded design. As soon as we crossed into the car's territory with the key, the side mirrors automatically unfolded to greet us. Kia has used buzz words like "sleek" and "sculpted" to describe the visual updates to this crossover, and the thing about buzz words is they were real words once. The Sorento's styling adheres to what those real words meant. The face of the car is more upright, with a grille that is less angled and holds dynamic Xenon HID headlights. This car also had the available ten-spoke nineteen-inch wheels, which make the car look really sharp when it's posted up at a stoplight, raring to go.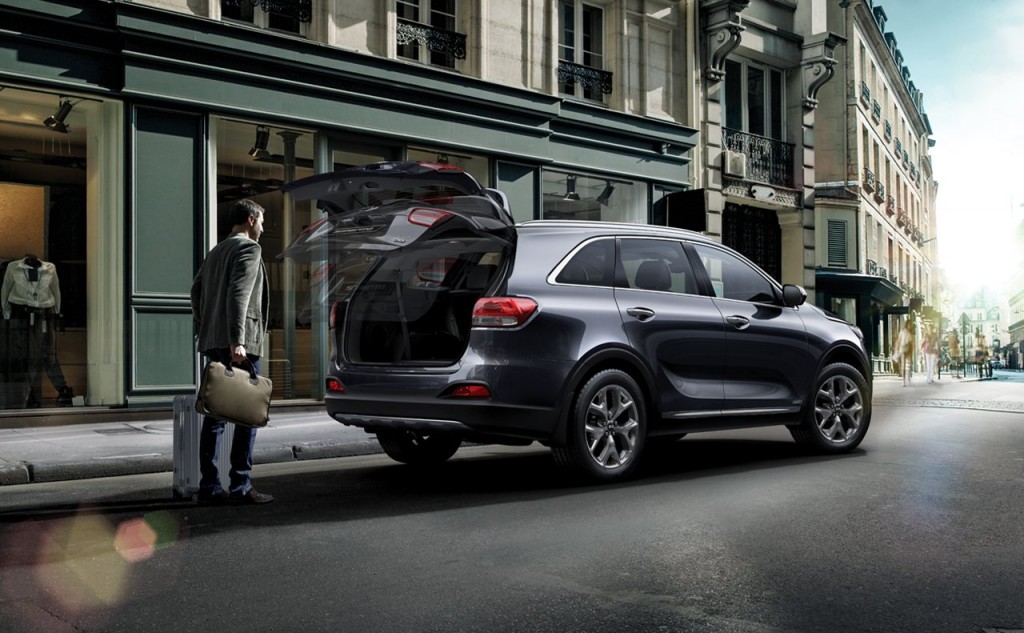 Around back, we pressed the button on the key fob to trigger the Smart Power Liftgate. Like the mirrors, you can program the trunk to open upon your approach. Don't worry about trying to press the button through your pants pocket or waggling your foot at the bumper. Just walk up to the tailgate with your key somewhere on your person and the door will open. You can even adjust the height it opens to.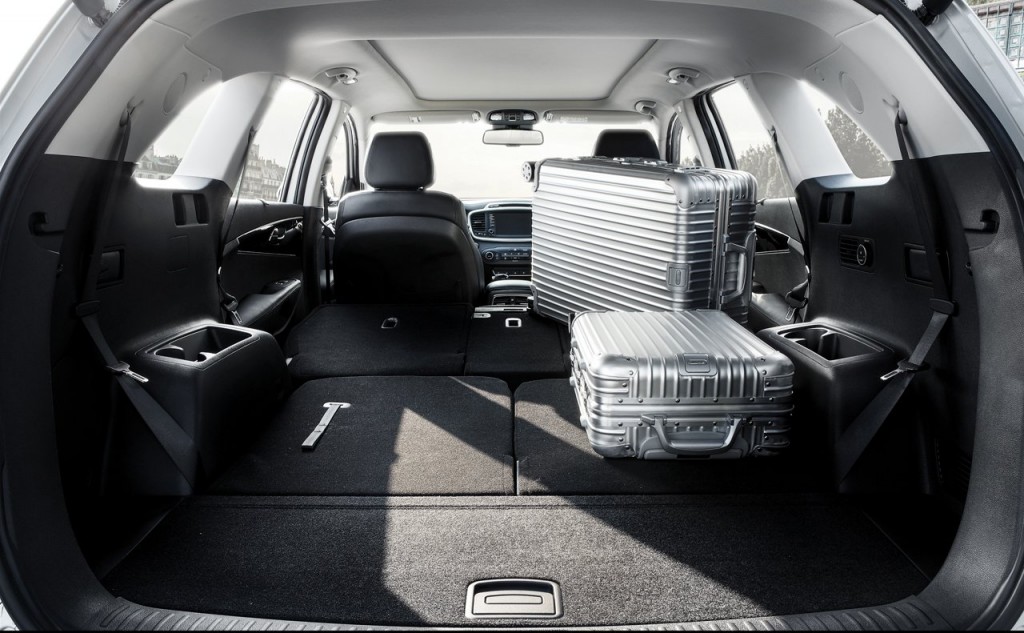 Inside the trunk, you'll find a tire repair kit and perhaps a pair of third row seats that fold down in a fifty-fifty split. We found the seats were easily folded down with a brisk tug on the strap, and they back up just as easily. To make it better, the second row can also be folded from the rear of the car with the aid of two levers on either side of the compartment.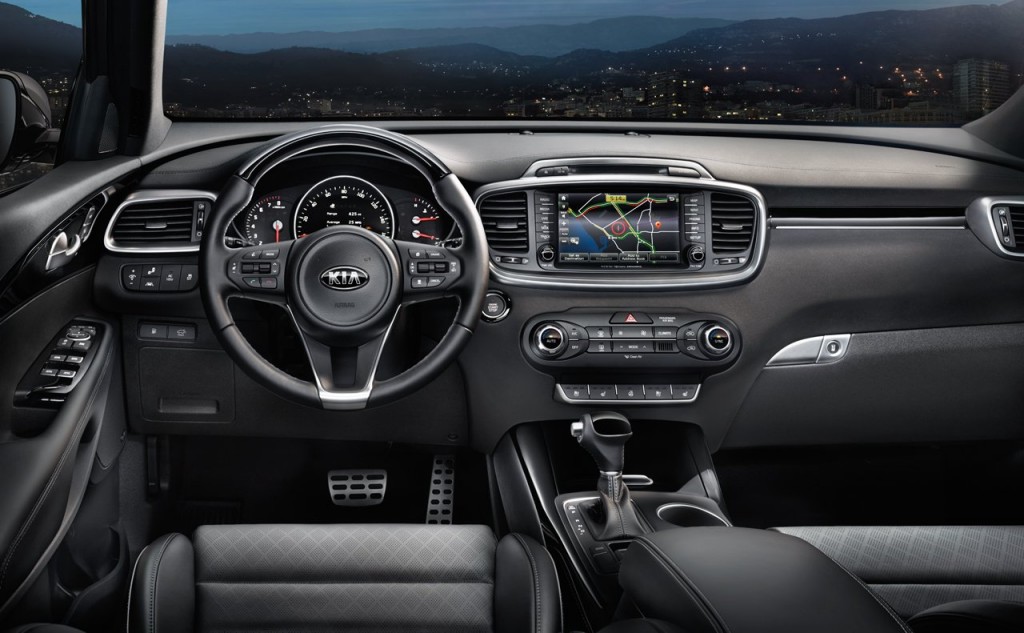 Finally getting in the front seat, we put our foot on the brake and pushed the ignition button. Doing so prompts an animation on the instrument panel, which shows the vehicle performing a system check, making sure everything is in working order and road ready. We adjusted our mirrors, positioned the seat and steering wheel to our liking, and then assessed our audio options.
If you're a fan of the radio, the new Sorento is well-equipped with standard radio options in addition to Sirius XM satellite functionality. We prefer to be our own DJ, though, which is why we instead skipped over to the setup menu and found the option to sync our phone. Take our word for it when we say we've done this in plenty of cars over the past several months. Syncing our phone to Kia's UVO system was the easiest experience we've had with this process. All you have to do is make sure Bluetooth is enabled on your phone, select "KIA MOTOR" when it pops up, and then let the car and phone do the rest. Just like that, we were able to stream our own audio over the ten-speaker Infinity Surround Audio System.
With comfort taken care of, all we had left to do was actually drive the car.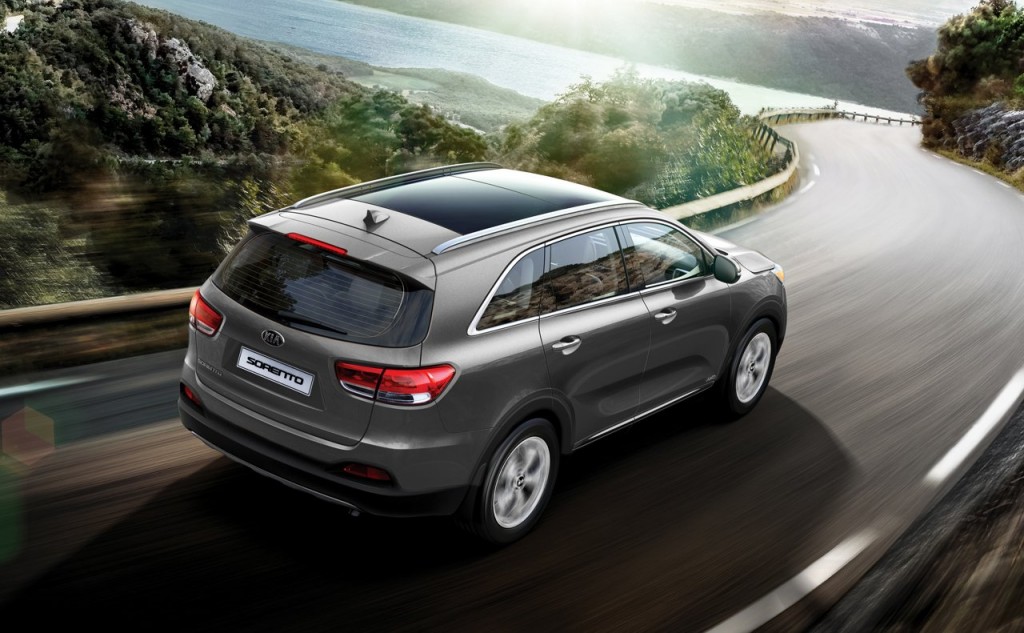 The standard Leith test-drive route is pretty straightforward, no matter what store you're visiting. A sales associate will accompany you and take the first turn at the wheel, giving you a chance to see how the car drives from a passenger's perspective. They'll pull over shortly and then let you take the wheel, guiding you along a preordained route. You start out on city or neighborhood roads and progress to highway driving before winding up back at the dealership.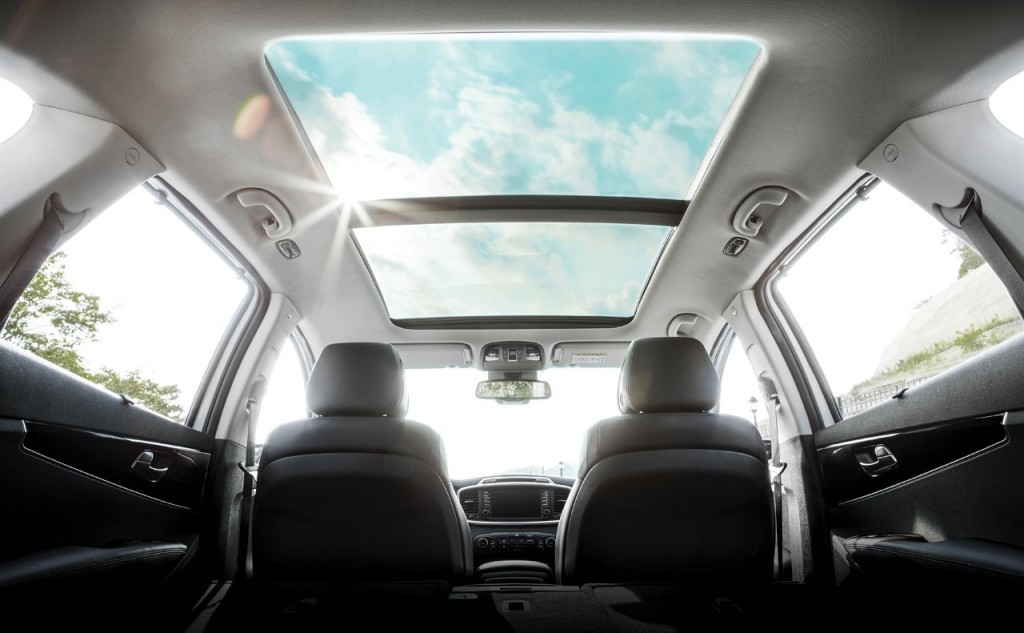 This route works fine for us, but just as a warmup. It lets us gauge the Sorento's steering (precise), its brakes (great), and the general feel of its ride (calm and collected). We reach up and toggle the switch that rolls back the powered sunshade, revealing the panoramic sunroof and the blue sky above. Lots of brands are making these sunroofs available in their midsize crossovers, but we can say objectively that Kia's feel the biggest. The difference is immediately noticeable as both light and warmth fill the cabin on the blustery February day.
Not that we were cold inside the Sorento. Our car came fully equipped – just in case we haven't said so already – with heated seats in the front and second row, plus a heated steering wheel, and dual-zone climate control. It's easy to understand how Pierce Brosnan looked so comfortable driving the Sorento up that snowy mountain when you know his butt was sitting on toasty, Napa leather.
The other thing we picked up on during that first lap is the Sorento's lane keeping assistance. This car has forward collision warning, blindspot monitoring, advanced adaptive cruise control, and surround view monitoring, all of which are great but thankfully we didn't need any of them. While you can turn the lane keeping assistance off, we chose to leave it on as we like to see how obtrusive systems like these are.
The Sorento's isn't at all. For starters, it's only active when you exceed a certain speed, so if you're just milling about in a parking lot, looking for a space, you don't have to worry about getting bleeped at. Thing is, you don't have to worry about that anyway as the indicator is just a calm chime and a popup in the instrument panel if you happen to be drifting without a turn signal on. You'll know lane keeping assistance is active because the icon on the instrument panel will be green.
When we got back to the dealership, we didn't pull into the lot. Instead, we kept going. We needed more time with this car, and besides, it's pitched as the perfect getaway vehicle. So far we hadn't gotten away from anything, so we deviated from the set course and set off to parts unknown.
During this leg, we chose to make use of Kia's Drive Mode Select functionality. This feature allows you to tune the Sorento's performance to your needs and desires. There's a SPORT mode that will enhance the engine and transmission settings, which made our throttle more aggressive as we sped away from a stoplight.
Further down the road, we switched to ECO, which moderates output to maximize fuel economy, tempering everything from the car's acceleration to its air conditioning. Also, even when you aren't in ECO mode, the Sorento helps you keep track of your fuel efficiency with a passive meter on the instrument panel. This little gauge fills up based on how efficiently you're piloting the vehicle, while it recedes if you're perhaps in a hurry and not really paying your fuel tank much mind.
We found the NORMAL driving mode to be best suited for our tastes, at least for a crossover like this one. The V6 engine gives it more than enough kick even without the more aggressive tuning, and the electronic steering never felt loose or shaky while we were rounding a bend. It just goes to show, sometimes balance is best.
Other features of note: this car has four twelve-volt power outlets, two USB ports, one three-prong wall outlet, and a partridge in a pear tree. Families will love the Sorento for never letting their battery power run out while on the road, whether they're gaming on a smartphone, watching a movie on a tablet, or using any sort of electronic device for anything. With this car, you have the power.
We also can't tell you how nice this car looks. Ours had a fine two-toned ivory and black interior, and we got out of the car at one point just to look at it and nod our head a little. From the sleek lines on the outside to the careful stitching on the inside, this is a car you'll be proud to own.
Once we were sufficiently lost, we brought up the navigation in UVO and entered the dealership's address in. The car calculated a route almost instantly, but we didn't quite agree with its directions (we weren't actually lost). Instead we purposefully deviated from the route several times. Every time we did so, the nav system was able to recalculate on the fly and point us in the right direction. It even did this without telling us to do a U-turn or turn around, instead adapting to our chosen route. Not long after that, we brought the Sorento home to Leith Autopark Kia and returned the keys.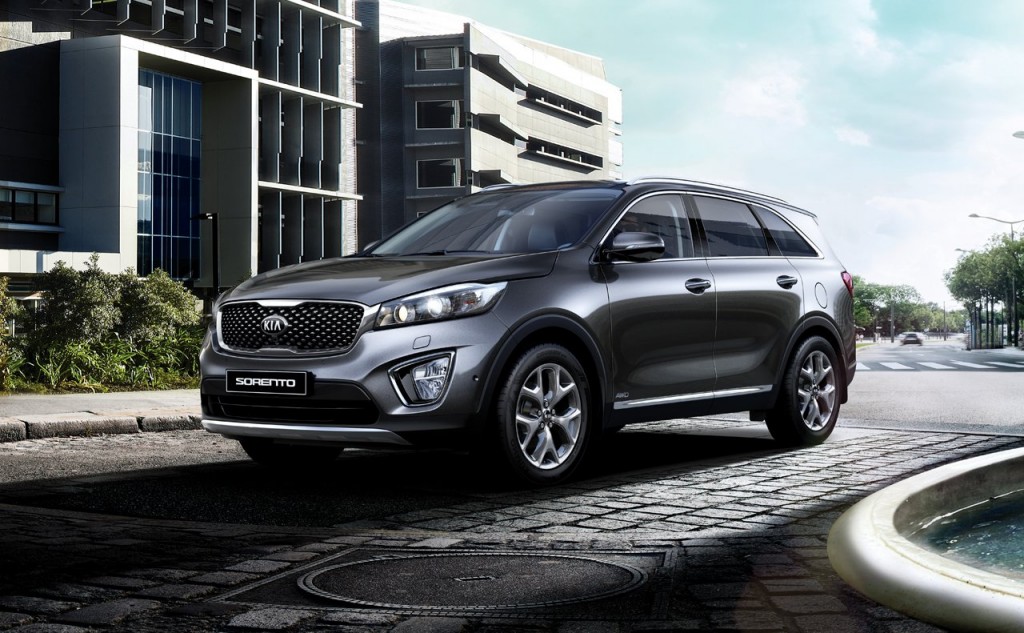 Compared to the previous version of this car, the 2016 Sorento feels like a completely different vehicle. The second generation was pleasant, serviceable, and otherwise adequate. The new Sorento is pristine, sophisticated, and adroit. This is an excellent car for small families with big aspirations, and we take the utmost pleasure in recommending it to you.
Thanks as always to the wonderful sales staff at Leith Autopark Kia for making our test-drive experience possible. Call or visit today so they can make yours possible, too.
Behind the Wheel: The 2016 Kia Sorento
was last modified:
April 20th, 2021
by